Here are some of the best cookie I have ever seen some artistic some funny but they are all awesome! So here is a top ten of awesome cookies!
10. Van Gogh Cookies are so freaking cool you can even bite his ears off.
9. Sesame Street Cookies are so cool especially when its cookie monster ok elmo is awesome too!
8. Spaghetti Monster Cookie !! Maybe its awesome because it looks scary?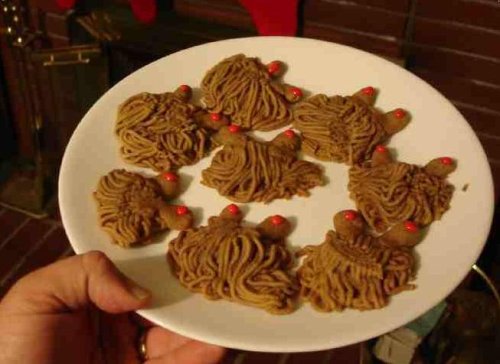 7. Lightning McQueen Cookie So cool and in Honor of Cars 2 this is perfect!
6. Make a cookie that looks like your dog pretty awesome
5. Star Wars Sugar Cookies are so cool From Boba Fett to Darth Vader Use the Force!
4. Lady Gaga Cookies. Rah Rah Rah OH La La a cookie romance!
3. Gingerbread Man Cookies that you can do just about whatever you want with. You can bite their heads off!
2. Day of the Dead Skull Cookies! Halloween and Day of the Dead produce some of the most awesome cookie skulls known to man!
1. The number one awesome cookie in the entire world! DOMO KUN cookies!
Hope that you enjoyed my top ten cookies! Please Repost on Facebook, Twitter or Email to all your friends.